I'm back with another AuroraWings Challenge after our summer break in August. Our theme this time is Crop It!
I have taken the beautiful Chrysanthemum Festival image and cropped it on either side of my card to create a different look:
I used two different colour palettes for my girls creating a Yin Yang feeling. The rich dark red and gold on the left side contrasts with the pastel lavender and blue on the right. My backing paper shifts from light to dark opposite to my colouring.
Thanks for stopping by today, please follow the links below to see what my talented team mates have created. Don't forget, you may enter using any image (as long as you follow the theme) – if you use AuroraWings images you may enter up to three times.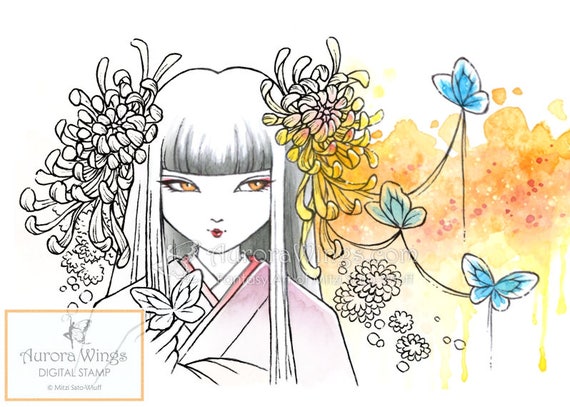 Useful Links:
AuroraWings Etsy Shop – buy images, colouring books, ACEOs, etc
AuroraWings Digi Shop – buy images, colouring books, ACEOs, etc
AuroraWings Challenge Blog – Two challenges a month on the first and third Mondays of each month
AuroraWings Showcase Blog – see new releases and featured artist posts
AuroraWings Facebook Group – a monthly challenge, giveaways, competitions and a place to share your AuroraWings creations
AuroraWings Facebook Page – all the latest information on new releases, special offers, competitions, etc