We are making it easy for you again this month at AWCB. The theme is Anything Goes, and although you don't have to use an AuroraWings image, if you do you can enter up to three times.
Here is my inspiration for you all today, using Mask of Leaves:
I love it when Mitzi creates an image in this style, with loose lines. It creates a dreamy effect that is so enjoyable to colour.
I used Copics and Promarkers in warm autumnal tones, adding glittery accents with Stickles.
The rich raspberry tones work well with the oranges and greens, and contrast with her fair hair and skin tones.
I hope that you will come and join in the challenge with us this time, we love to visit your blogs and take a closer look!!
Image Used: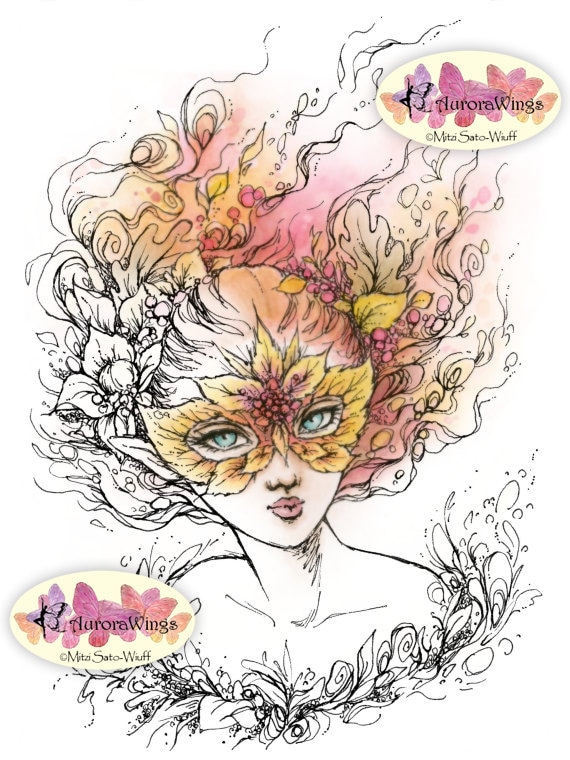 Useful Links:
AuroraWings Etsy Shop – buy images, colouring books, ACEOs, etc
AuroraWings Digi Shop – buy images, colouring books, ACEOs, etc
AuroraWings Challenge Blog – Two challenges a month on the first and third Mondays of each month
AuroraWings Showcase Blog – see new releases and featured artist posts
AuroraWings Facebook Group – a monthly challenge, giveaways, competitions and a place to share your AuroraWings creations
AuroraWings Facebook Page – all the latest information on new releases, special offers, competitions, etc